chevron_right
chevron_right
In the food and beverage business, having a spotless clean working environment not only for the working crew but for the patrons is essential. At Green Pros Cleaning, we provide restaurant owners with detailed restaurant cleaning services any time of the year. Our detailed customized cleaning plans are suited to meet the unique needs of restaurants, bars, buffet businesses, and any other commercial establishments offering any food. Moreover, we work with your schedule to not interfere with the daily operation of your establishment.
Staying Up to Code
Green Pros Cleaning realizes that your restaurant operates under specific safety and regulatory health standards. Violations of these often result in fines and unexpected fees; due to lack of compliance. Some businesses can even get their license revoked. That's why our restaurant cleaning crew is trained to understand exactly what needs to be done cleaning wise to keep your restaurant away from violating any health and safety regulations.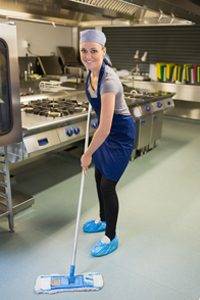 Cleaning Services We Provide:
Kitchen Cleaning
Parking Lot Sweeping
Restroom Cleaning
Floor Care
Dining Room Cleaning
Disinfecting
Lobby Cleaning
Sanitizing
In the food and beverage service industry, protecting and giving the customers a great dining experience is a must to succeed. However, some restaurants find themselves in serious trouble and potential lawsuits due to lack and not following cleaning standard conditions.
At Green Pros Cleaning we understand that your food supplies need to be protected while cleaning the surrounding areas. We also use a variety of eco-friendly cleaning products that will deliver the results expected to remove any stains without using harsh chemicals. The health of your employees and customers is our main priority.
We Know How to Clean
Our company has been performing commercial cleaning services in Miami, Broward, and Palm Beach Counties for many years. Our customer testimonials and word of mouth referrals prove that we know how to handle any kitchen successfully. Our clients include major names in retail, construction, and various food service establishments. We want to add your restaurant to that list. Call us for a free estimate 954-281-8530